(Photo: David Hartung For Forbes)
Say hello to Frank Wang! He is the 34 yr. old President and CEO of the very popular DJI company from Shenzen, China. Currently owning 46% and according to Forbe's is the world's newest billionaire. I wonder, when he founded the company in 2006 with 20 employees, if he imagined DJI would be in the direction it's at today, or if that it'd reach a nearly $10 Billion evaluation in less than 10 years, or would control over 70% of the world's UAV/S (unmanned aerial vehicle/system) consumer market. Yeah, he's the one who built the quad-copter that a drunken government employee crashed into the White House lawn.
Just a brief history, Frank Wang started DJI by making flight controllers for single rotor copters. He soon saw the need to retain some of the money "in-house" so they started building their own copters to go with the flight controllers. An obstacle they needed to overcome, though, was creating a copter that wasn't just for the "RC'ists" in the world.
The "Joe Schmo" needed a copter that didn't look intimidating; open body showing all the electronics, circuit boards, and wires. Joe needed a fully enclosed body, hiding its guts, requiring zero programming, and is pre-assembled ready-to-fly out of the box. Hence the birth of the Phantom, and that's when the U.S. really started to pay attention to DJI.
Soon after, they released one of the first ever 2-axis gimbals for a GoPro, and soon after DJI really took off (no pun intended).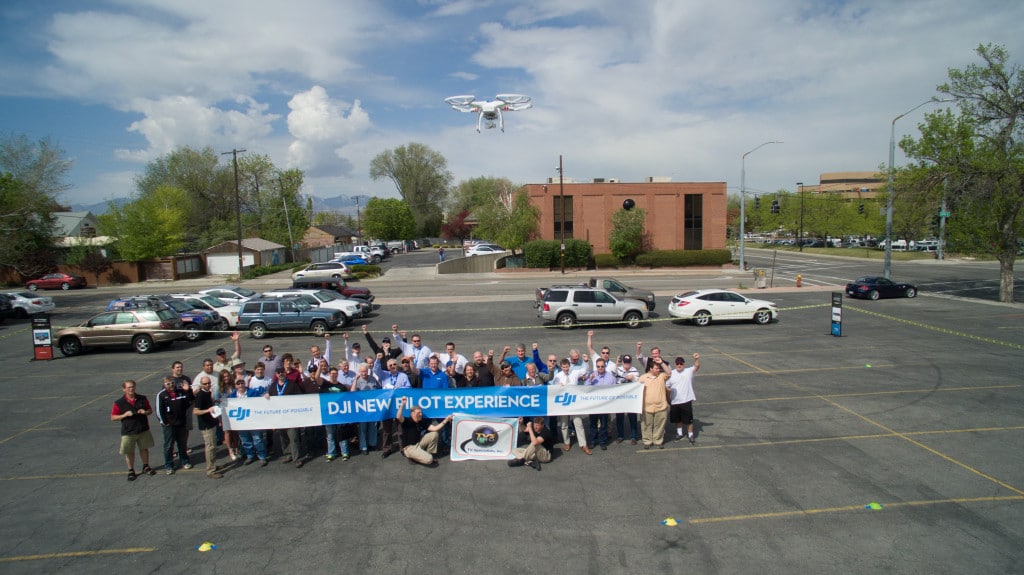 TVS Pro was Utah's first direct DJI dealer and first full service DJI dealer also. We started selling the Phantom 1 nearly 3 years ago, selling onesie-twosies every month. Now, since the releases of the Phantom 2's and most recently the Inspire 1 and Phantom 3's, it's onesie-twosies daily. Part of the reason for the increase, isn't just because of name recognition, but also because of the change in direction and innovation that DJI has taken over the years that can really help video production resellers like us, TVS Pro, separate ourselves from the major RC/Hobby shops in the country.
The reason for the brief history is to show DJI has always been an aerial company. However, with their highly innovative Zenmuse gimbal technology they have been able to take sales to the "ground level," so that they are no longer classified as an aerial company. Now they are a story-telling company incorporating aerial and ground production together, giving us at TVS Pro an upper hand to our competitors, by allowing us to offer a one-stop-shop. Buy your copter, gimbal, and camera needs at the same time.
From their original Zenmuse 2-axis GoPro gimbal, to a 3-axis gimbal, and finally to a full-size handheld gimbal (available in two different models) DJI's gimbals have provided quality motion stabilization capable of holding anything from a pound to sixteen pounds worth of production equipment.
DJI by all means did not invent the 3-axis gimbal. There have been other pioneers in the industry, but DJI knew just the right innovation, and price, to re-invent the wheel, making it as reliable and well-built as other 3-axis competitors, but at 1/3 the cost. Their new entry-level, Ronin-M, starts at only $1399, supporting up to 8 lbs, while its competitors start around $3k and support less than 4lbs. DJI's full-size Ronin can support up to a whoppin' 16lbs and is only $2499, while its competitors only support up to 15lbs (which will still get the job done), but at a whoppin' $8k; and that doesn't even include a travel case or pre-programmed 2.4gHz radio controller.
DJI didn't stop there.
They've also announced handheld gimbals that are used in partnership with the Inspire 1 4K camera and gimbal, as well as a wireless follow focus to pair with the Ronins. These two products have not yet been given birthdates or prices, but we imagine they'll be just as good, yet more affordable than their competitors.
DJI's flagship Phantom series has made another huge leap with the new Phantom 3 as well, offering 4K recording capable of live HD video transmission up to a mile. Oh, and live streaming? Yeah, it can do that too! All under $1300. Once again, beating out their competitors both in features and price.
Just like GoPro caused us to rethink the way we film action sports, we're seeing DJI inspire the world to think even more outside the box and get our imaginations flowing with all the possibilities that their products can offer. DJI has created a new standard for many, including us, by showing that aerial cinematography cannot be ignored. It isn't going away and should be considered an integral part of any new production.
We foresee DJI staying in the forefront of innovation in the cinema and production industry, and it doesn't sound like Frank Wang is planning on slowing down anytime soon: "You can't be satisfied with the present."