Whether it be a bare-bones flat screen TV, or a television that has speakers or offers wifi and internet streaming, we have an impressively wide line-up of video projectors to select from. Not only that, but we carry only the highest quality TVs with proven quality and reliability track records – so we can provide you with unsurpassed image quality, features, quality and reliability that you are looking for in a home theater flat screen TV.
We offer, and are experienced and knowledgeable with 4K resolution (UHD), High Dynamic Range (HDR), expanded color, types of upscaling, processing, and more. We not only understand the various technologies, but all of the factors that should go in to selecting the right television for you.
Top 5 Secrets to the Best Picture Quality
Check out our blog posts on how to get the best picture quality and image reproduction for TVs and Projectors.
How to select the right flat screen TV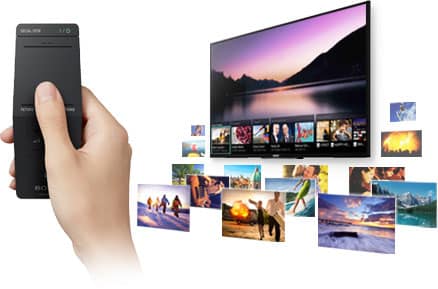 1. Determine desired size
As in choosing a projector screen size, optimum size should be based on room dimensions, planned audience seating size and room arrangement. In general, height should be about 1/6 the distance from the screen to the back row of seating. Ideally, the front row of seating should be the distance of two screen heights from the screen. For wall placement, the best height takes in consideration the audience floor; the bottom of the screen should be at least four feet above the floor to allow the back row to see the screen.
2. Determine your cost range
Costs vary greatly depending on technology, features, and pictures performance. In general, you will get what you pay for. Flat screen TVs with 4k and HDR, for example, are more expensive. However, their cost has come down. However, in some situations, 4K isn't always recommended.
3. Determine what kind of quality, reliability, and features you want
Some TVs and brands cannot even be serviced in the United States. Better brands outlast others and have better track records of reliability. In regards to features, some TVs have Smart TV features or applications, but depending on your set up, they may be redundant and not needed. Most blu-ray players or media servers have similar Smart TV technology making it unnecessary with a TV purchase.
4. Determine the type of picture performance you want
There is now a huge range of technology that can enhance picture quality such as 4k resolution, or UHD, High Dynamic Range (HDR), Expanded color, processing type, the way a picture is upscaled, and even the way an LED is backlit.
We know there is a lot to consider when buying a flat screen TV, and we want to help you find the perfect TV for your home. We invite you to come in and speak to a specialist who can explain the various technologies and features – and show you comparisons so that you can select the flat screen television that's right for you.
Core Technologies of Flat Screen TVs

There are primarily two core technologies that are used in today's flat screen televisions. Plasma TV, although popular ten years ago, are no longer the preferred technology; most brands, if any at all, don't even manufacture them anymore. The two main technologies used in today's TVs are LED (or backlit LCD) and OLED (organic light-emitting diode).
LED (Backlit LCD)
LED flat screen TVs, also known as backlit LCD, are today's most popular technology. All that is meant with 'backlit LCD' is that LED screens light up LCD panels behind the screen to offer brighter pictures and color. However, when striving for perfect blacks, lighting the darker areas of the picture affects and dims contrast. Most don't even realize that there are different types of LED (and backlit LCD) technologies available, but they certainly affect the image quality!
Edgelit
Edgelit backlit LCD is the most conventional LED that you will find. Light is projected over the entire picture, which considerably brings down contrast and the darkness in blacks. It is the least advanced in backlight technology.
Local Dimming Edgelit
Local dimming edgelit LCD is better than conventional edglit by offering more, but not full, control of the areas that are lit up.
Backlit Local Dimming
Backlit local dimming is the highest quality of backlit LCD that is currently available. It offers full-array and more precise control of backlighting – it even approaches the incredible blacks that OLED technology offers.
And now, there's even improvements that allow brightness to exceed the best OLED, last longer, are thinner than conventional LEDs, and are available at a fraction of the cost!
OLED (organic light-emitting diode)
When comparing most LED (or backlit LCD) TVs, OLEDs have much better blacks, an impressive display of color, and the panels are much thinner. However, most don't realize that detail is lost in some of the mid-tones and, in general, they don't last as long and are more expensive.
The newer, backlit local dimming technology offered with LED TVs approaches the blacks of OLED, a brightness that exceeds the best OLEDs, last longer, offer thinner panels that compare to OLED – and are available at a fraction of the cost!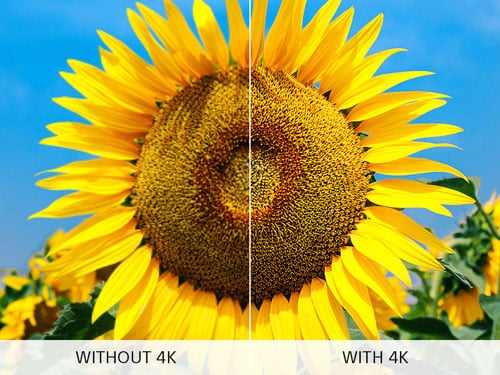 Detail & Sharpness
Most, if not all TVs available today offer High Definition resolution, with a much higher resolution than conventional and older TVs. Higher resolution allows for greater detail and sharpness. However, now that 4k resolution, also known as Ultra High Definition (or UHD), is available – resolution and pixel count exceeds High Definition allowing for an even more astounding picture.
Additionally, better processors, used for upscaling and remastering, can enhance detail and sharpness on lower-resolution pictures that may not have looked as good on newer sets.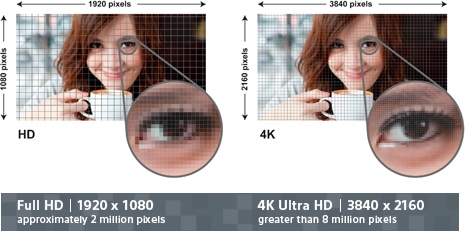 Color
New features, such as expanded color, expand the color gamut on better, high quality TVs. Expanded color now helps your eyes see tropical forest greens, caribbean turquoise, and deep rose reds. Next to improving contrast, expanding the color gamut is the next best thing to enhance any picture.
Additionally, with High Dynamic Range (HDR) capabilities, more colors can be seen in the darker and brighter parts of the picture.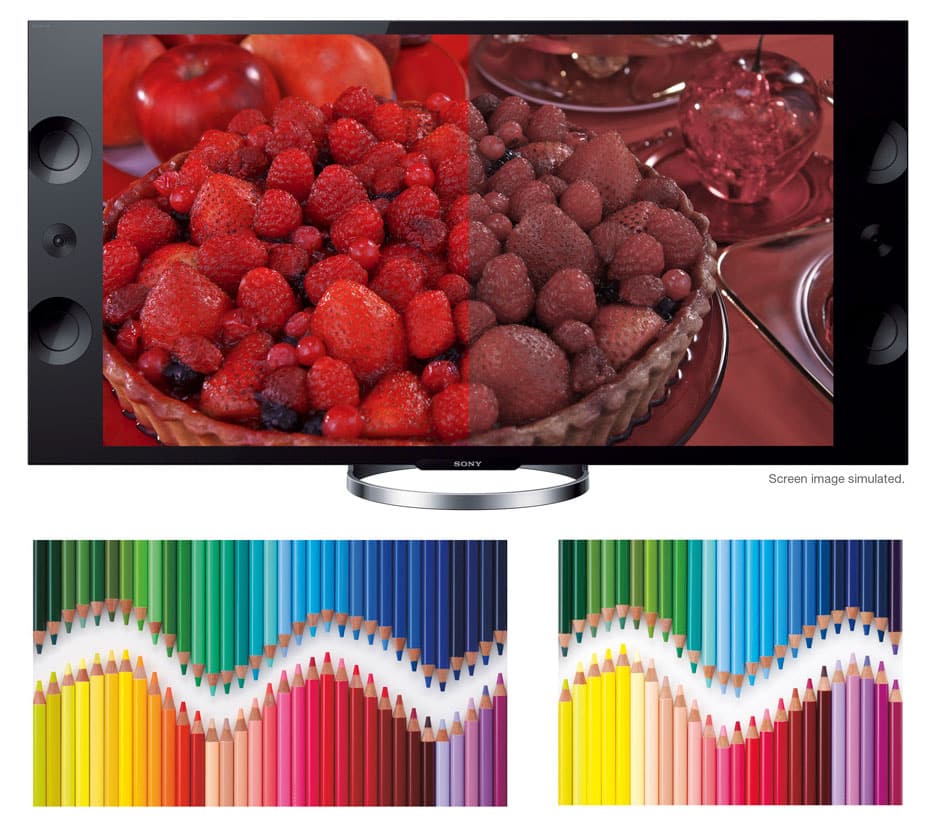 Upscaling, Remastering, & AI
Many TVs tote that they can upscale any picture to High Definition or 4K resolution. Most TVs simply add pixels. However, the better sets use artificial intelligence, databases, and processors to better recreate, or remaster, a near High Definition or 4K experience. Better processors can offer higher bitrates of processing to eliminate banding in gradients – mostly seen in skies or smooth transitions on lower quality sets.
Contrast
Contrast can play a huge role in the way that our eyes perceive picture – and is the #1 thing that can enhance picture quality. Better contrast is perceived as a better picture. However, with some technology, details are lost in the very brightest or darkest parts of the picture. However, with High Dynamic Range (HDR) capabilities, details in shadows and brightness can now be seen.