Video conferencing has become a necessity in today's world. We are so easily connected with video calling on our mobile devices that we want the same experience in our offices, conference rooms, and classrooms. Some of the first things to consider when adding video conferencing capabilities to a space are: who you are trying to capture, who your audience is, how you will host the meeting, and how you need to connect to the conferencing equipment. By determining these factors in the early stages of your upgrade, we can narrow down the solutions that are designed to best suit your application.
It can be very daunting when you start researching what cameras or microphones to use for your video conferencing setup. Terms like "beamforming" or "auto tracking" are often used by today's manufacturers to make the equipment sound easy to use – which they absolutely can be. However, these components are generally built for their intended applications, and should be considered when and where applicable. 
That is where a consultant or AV integrator can help! By determining your needs first, the integrator can help narrow down all of these products that are currently available, and provide the best fit solution for you. Now, let's dive into the 3 biggest problems that can arise when putting together a video conferencing system.
1. Having Adequate Audio Coverage
It goes without saying that audio is the most important component to your conferencing needs. Participants are likely to forgive imperfect video as long as the audio remains clear; however, when audio starts to degrade the participant's will start reacting negatively to the meeting. Without the ability to hear your participants – or hear them clearly and intelligibly, then your meetings will be a waste of time and money. Have you ever started a meeting, everyone joins in, and someone starts with "Jim, we can't hear you" or " Karen, you're muted"? It's happened to all of us at some point, and it's usually followed by a frustrated individual, fidgeting with settings, wires, or connections to get something fixed quickly. If it is not resolved quickly, we resort to calling in with our desk phone or mobile phone – because we know it will work, and now the technology in the room has wasted valuable time. By understanding the available options for microphones, and how they integrate into your environment, this confusion can easily be eliminated to ensure you have the coverage needed.
Microphone Types
Audio reproduction has been around for decades, and has been perfected time and time again. If you have the opportunity to speak with an audio engineer about what the preferred microphone placement is, you will likely hear the response to "eat the microphone". What does this mean? It means we want the microphone to be as physically close to the active speaker as possible, without being obtrusive. If we could have each participant hold a microphone close to their mouth and speak at a healthy volume, our problems would be solved! However, that is not practical, easy to use, or even possible in some applications. That is ok, because there are plenty of options available.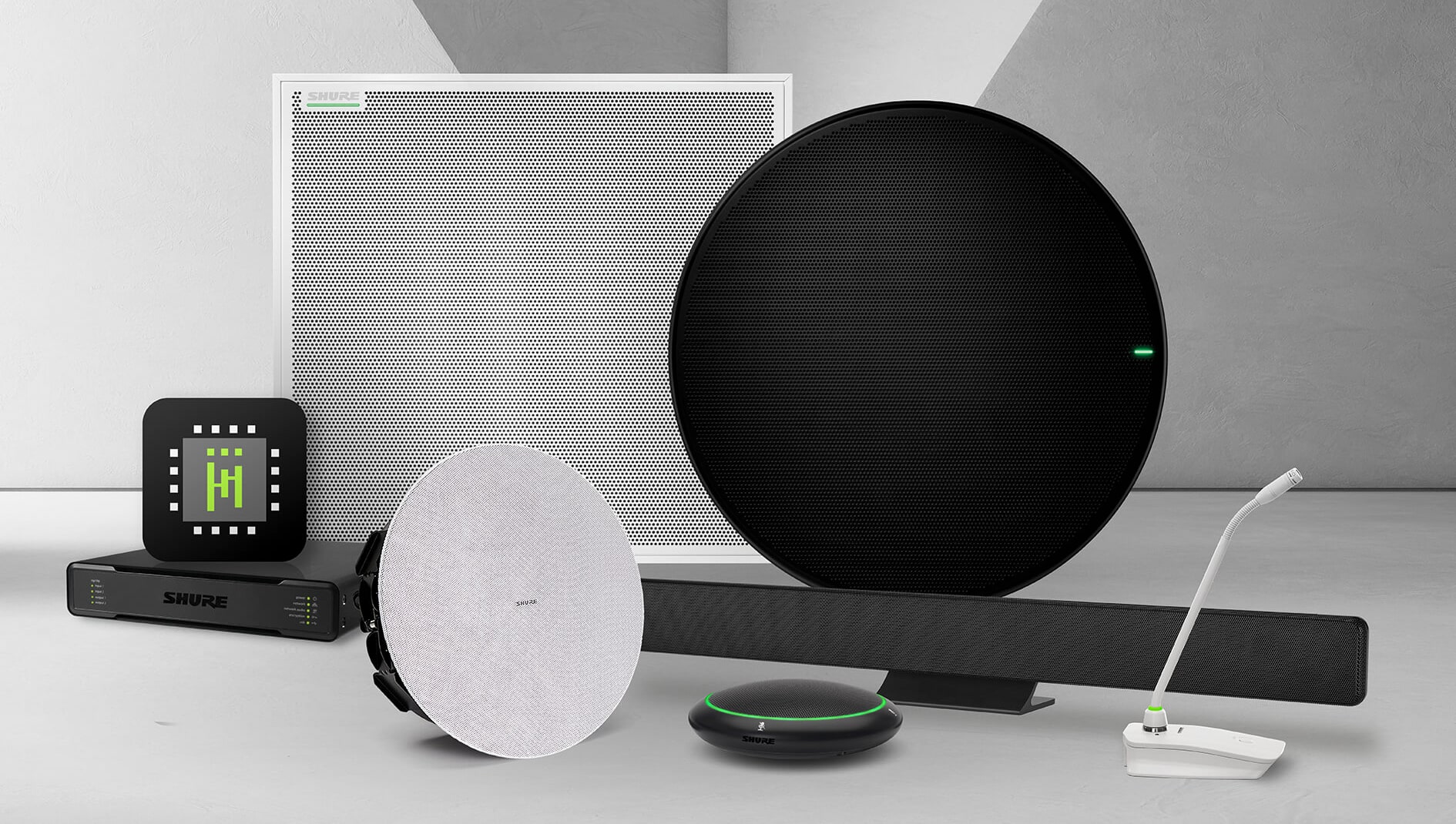 In this article we will focus on 3 primary microphone categories: wired, wireless, and beamforming. There is some overlap within these different microphone  types, but for our application within video conferencing they are the most applicable. 
Wired microphones can be handheld and are designed for a single user. They can be set on a desktop with a long flexible element to reach over a work surface and positioned for an individual user, or between a group of users. Or, microphones can be mounted directly into a table or ceiling to pick up a general speaking area. 
Wireless microphones can also be handheld or set on desktop, but allow the flexibility to be moved around as needed. This might be to fit the amount of participants in a given meeting, or be placed appropriately in a modular room configuration. 
Lastly, beamforming microphones are designed specifically to pick up larger areas within a single appliance, and can be placed on a table or mounted to a wall, ceiling, or other structure within a room. Beamforming microphones consist of several microphone elements and an onboard signal processor that are actively picking up audio from several directions. Depending on the type and size of the beamforming microphone, it may provide a single audio channel or several. Each channel can be tuned or configured for a specific position within a given space.
Now, you might be thinking the beamforming microphones are what your video conferencing system needs, and you might not be wrong. However, these microphones do come at a higher price because of the extreme flexibility and versatility they offer. Each microphone type (wired, wireless, and beamforming) is designed around a specific application, and should be chosen based on how it needs to perform. If you need to pick up specific participants and eliminate unwanted chatter, then a microphone with a smaller and focused pickup range should be chosen – such as wired gooseneck or tabletop microphones. If you need specific controls of turning microphone channels on and off (muting or unmuting), or using microphones for in-room amplification, this will be difficult to achieve with microphones designed to pick up a broad area and you may need multiple handheld microphones or a mix of gooseneck and handheld microphones. 
2. Framing Meeting Participants on Video
Being able to hear a meeting is crucial. However, being able to see each participant increases engagement, and leads to more productive and memorable meetings. This statement is true, if the video does not become a distraction. Have you heard terms such as "auto tracking" and "intelligent framing" used when discussing video conferencing? Most manufacturers' equipment have Artificial Intelligence (AI) built-in to provide a more "seamless" and "user friendly" conferencing experience. While this is true most of the time, you should still be aware of these terms so you know exactly what you should be looking for, and what to expect. 
Fixed Cameras vs Pan-Tilt-Zoom (PTZ) Cameras
Depending on the area of your subjects there are two primary groups of camera types to choose from. Fixed angle view cameras offer just that, a fixed view of your area, dictated by the physical position of your camera and its field of view. If it is located far from your subject, they will appear small and distant in the conversation. If the camera is located too close to the subject, they will be too large and consume their designated window. In much larger environments Pan-Tilt-Zoom cameras, or PTZ for short, allow us to move the camera's focal point around the room to better frame the active speaker. PTZ cameras allow for incredible flexibility, and the hardware options currently available are astounding – and overwhelming.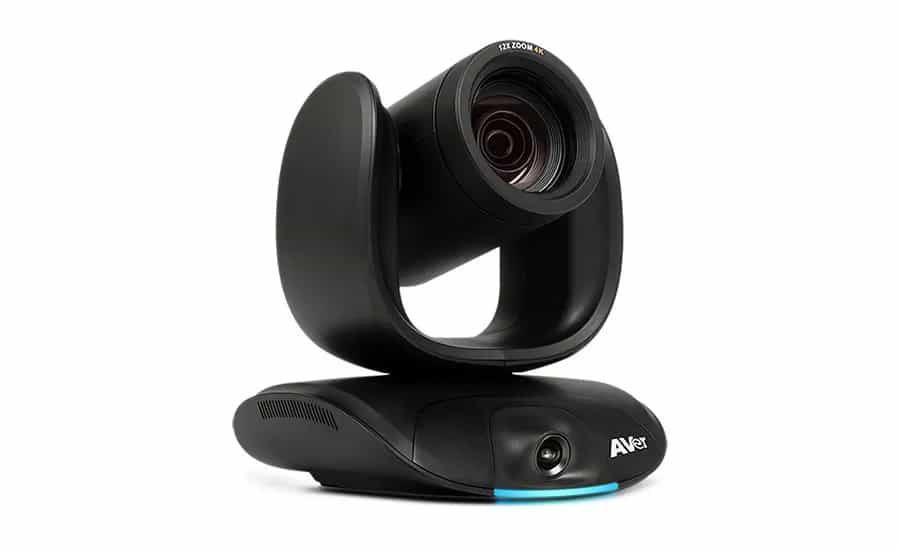 Intelligent Framing
Once you have chosen the camera type that best fits your application, we can determine some specific features that might be required. Some fixed angle cameras will automatically zoom and focus on participants within a meeting, which can be beneficial in keeping your focus on the meeting agenda instead of cumbersome technology. In more advanced configurations, cameras can be set to automatically track presenters as they move around a predetermined presentation area, or programmed to track an active speaker by following their audio within the room. In these more advanced systems there needs to be very strategic planning in hardware placement (such as cameras, and microphones), as well as the necessary components to provide a seamless experience.  
3. Overall System Stability via Connectivity
Once you have all the components picked out for your space, it is time to connect everything together and start hosting your conference calls. Some devices may require setup and configuration, which can introduce problems if not applied properly. Microphones may need to be integrated with a mixer or DSP (digital signal processor) to balance and combine the appropriate audio signals and route them to their designated outputs such as conferencing equipment, analog phone or VOIP (Voice over Internet Protocol) lines, and amplifiers to power in-room speakers. 
Tech Tip!
As your system includes more advanced features, applying the correct configuration will become more critical. Without properly configuring your DSP you can introduce echo into your conference calls – where your participants will hear themselves looping back in their own speakers, or feedback – the loud ringing from your speakers that is caused by a microphone "hearing" itself coming from the speakers.
After you have properly tuned the system to eliminate any potential microphone problems, you must connect your actual conferencing equipment, the "codec". The codec is the device that will send the video and audio from your location to the participants, as well as receive the participants signal and display it in your room. This codec may be a physical appliance, software running on a dedicated computer, or in-room connections to bring your own device that will be hosting the meeting. In any case, those connections must be made, and can commonly be the most difficult piece of your system.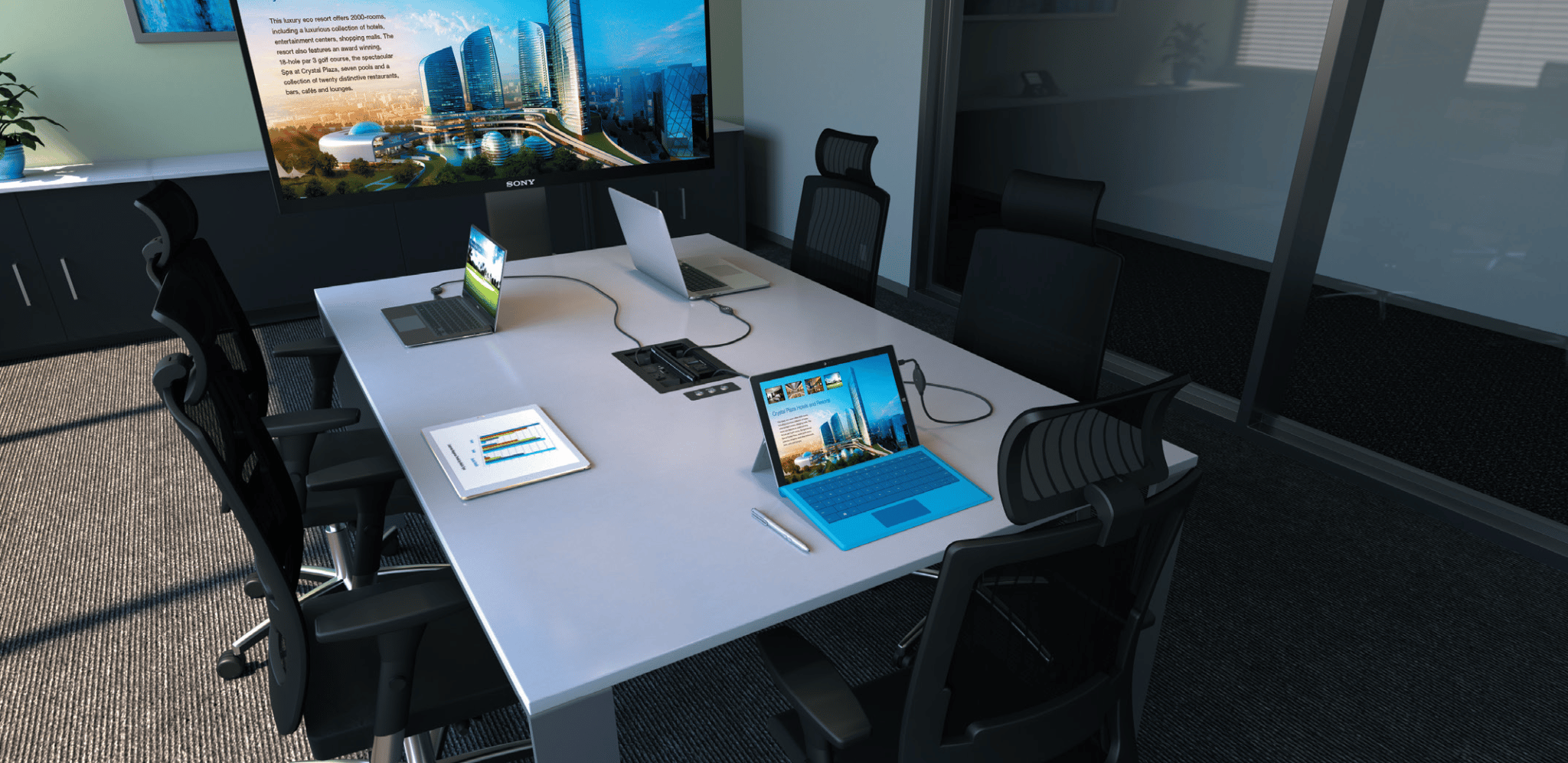 Many rooms, in today's hybrid meeting rooms, need to be flexible and allow various devices to utilize in room hardware – such as the cameras and microphones we have discussed. This can be fairly straightforward, as USB connections have been around for quite a while and are designed to be universal in their applications. Within USB connectivity you have two types of devices – a host and a peripheral. Hosts are defined as the device receiving the signal such as a computer, phone, or tablet. Peripherals are the devices you connect to a host such as a keyboard, mouse, storage device, or webcam. 
USB has physical limitations in distance and bandwidth/capacity that constrain just how far we can send the signal. To overcome some of these limitations, we can use long cables that are specifically designed to carry the USB signal, but they are designed to be used "point-to-point", meaning they should be connected directly from host to device. 
Without considering this last piece, the connectivity, you can easily cause a project to go over budget by adding extremely costly cables or USB extenders to solve problems. By taking into consideration how you will need to connect to your equipment, hardware solutions can be selected with features that allow for extended distances, multiple connection points, or wireless connectivity, to make any room a successful one. 
Conclusion
Video conferencing has become a requirement in a large portion of our daily lives. The ability to participate in a video call from a mobile device has changed the way we see our offices, conference rooms, training rooms and classrooms. By determining what each space needs to achieve, and the content it needs to capture, we can select the appropriate microphone and camera technology that will perform the best. Defining how the meeting will be hosted will also determine the connectivity requirements for each space to provide an easy to use, and reliable, experience. Reach out now to engage with our experts to design the video conferencing solution that is perfect for your situation!
Contact a System Engineer today!