UDOT Traffic Operations Center
The Utah Department of Transportation (UDOT) contracted TVS Pro to design and install replacement displays for their main Traffic Operations Center (TOC), which is operated 24/7. They wanted 3 Direct View LED walls: one larger one in the center and two smaller on each side. The system needed to route any of UDOT's 1,700+ camera feeds to multiple locations within the displays. The large center display (302" diagonally) can display up to 24 feeds at a time and each side display (110"/ea diagonally) can display 4 feeds at a time. All three displays were Sharp/NEC FA Series 1.2mm pixel pitch displays. In addition, the system included 3 video controllers, 2 matrix switchers, a window processing system, 32 encoders, 32 decoders, 2 48 port switches, Extron control processor and touch screen, and accessories including cables, and racks.
TVS Pro provided all design, construction, and installation services in-house through the State of Utah cooperative purchasing contract.
Products & Materials:
Displays (19,828,800 total pixels!)
1 x Sharp/NEC LED-FA012I2-303 (22' X 13', 303" diagonal, 1.2mm dvLED, 5,280px x 2,970px)
2 x Sharp/NEC LED-FA012I2-110 (110" diagonal, 1.2mm dvLED, full HD 1920px x 1,080px)
Video Wall processing
1 x  tvOne CORIOmaster2 (24x HDMI 1080p inputs, 4x 4K HDMI outputs)
2 x Kramer MV-4X Multiveiwer 4×2 Seamless Matrix Switcher
2 x NovaStar H9 LED Processors (4x 1xHDMI2.0 input cards, 2x 20xRJ45 sending cards)
4 x NovaStar MCTRL660 Pro LED Controllers
AV Pro Edge MX Net distribution system
32 x AC-MXNET-1G-E 1Gbps Encoders
32 x AC-MXNET-1G-D 1Gbps Decoders
2 x AC-EZRACK-15 15 Slot Extender Rack Mount
1 x AC-MXNET-CBOX Control Box
2 x AC-MXNET-SW48 48 port MX Net network switches
4 x AC-MXNET-STACK-JUMP 0.5M Stacking Cable
66 x AC-BT02-AUHD Bullet Train HDMI cables
1 x Fox & Hound 8K test kit
Networking, Power, & Control
1 x Extron IPCP Pro 360Q xi Control Processor
1 x TLP Pro 1025M 10" Wall Mount Touchpanel
1 x Araknis AN-210-SW-R-24-POE
3 x WB-800-IPVM-12 WattBox 800 Series IP Power Conditioner | 12 Individually Controlled & Metered Outlets
3 x WB-OVRC-UPS-2000-1 WattBox UPS Battery Pack for IP Power Conditioners | 2000 VA
4 x WB-11-Light WattBox Rack Mount Lighted Power Surge Protector – 11 Outlets
Cabling & Infrastructure
12,000ft – Windy City Wire Shielded CAT6 Cable
4,000ft – Windy City Wire Un-Shielded CAT6 Cable
1 x RCI 1RU "TVS Pro" branded utility plate with RJ45
3 x RCI 1RU "TVS Pro" branded utility plate
32 x Middle Atlantic 1SP Vented Utility Shelf
8 x Middle Atlantic 1RU Brush Panel
40 x Middle Atlantic LBP-1A Lace Bars
20 x Middle Atlantic LBP-2A Lace Bars with 2" Offset
16 x C2G 12-port Blank Keystone Patch Panel
80 x C2G 90deg CAT6 Shielded RJ45 Keystone Jack
T.V.S.Pro Team
AV Consultant: Brent Parker
AV Project Manager: Dave Begay
Lead Installer: Jonathan Campos
Programmer: Lonnie Martinez
Commissioner: Andre Mercer
Construction Services: Jardine Malaska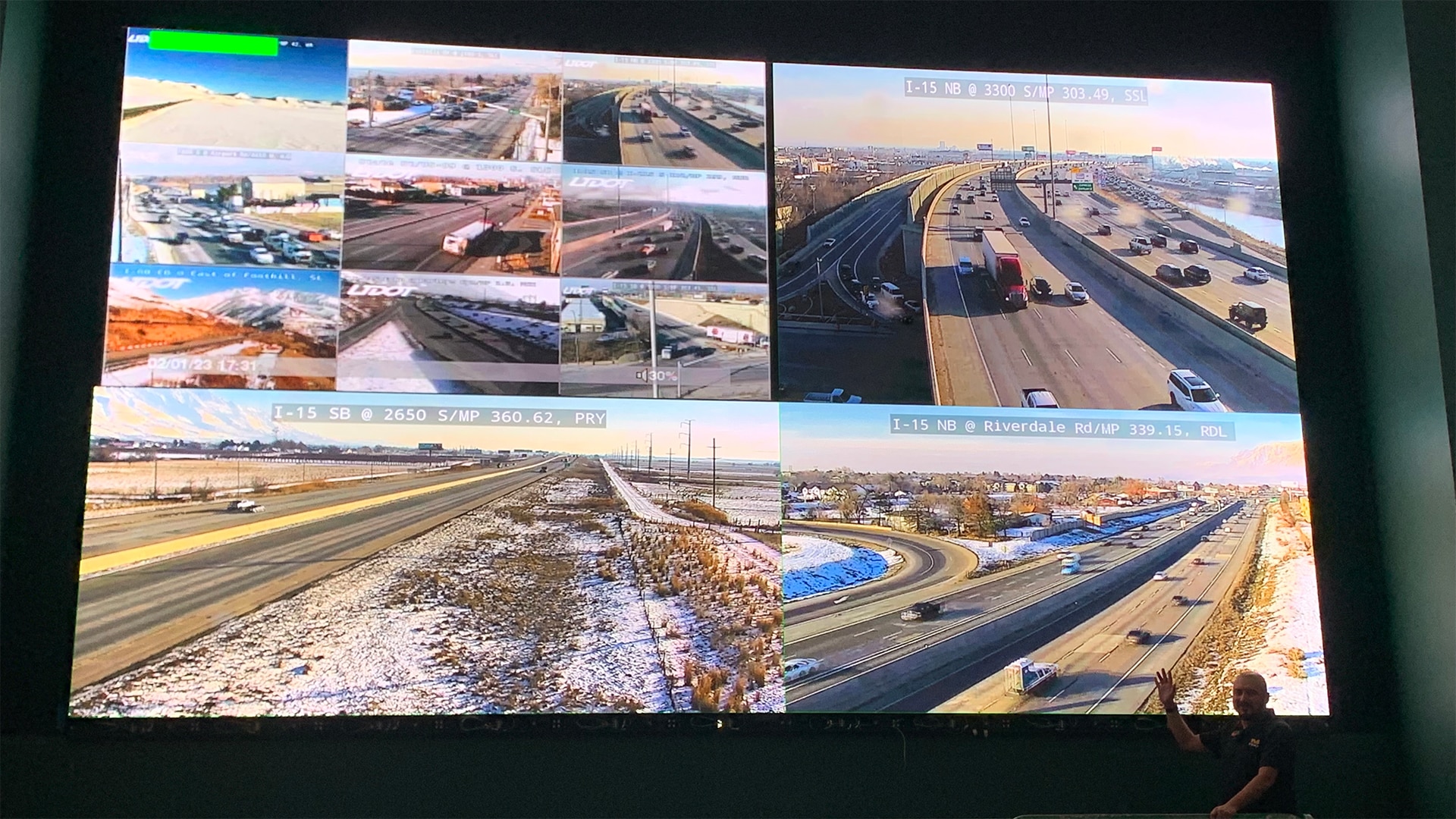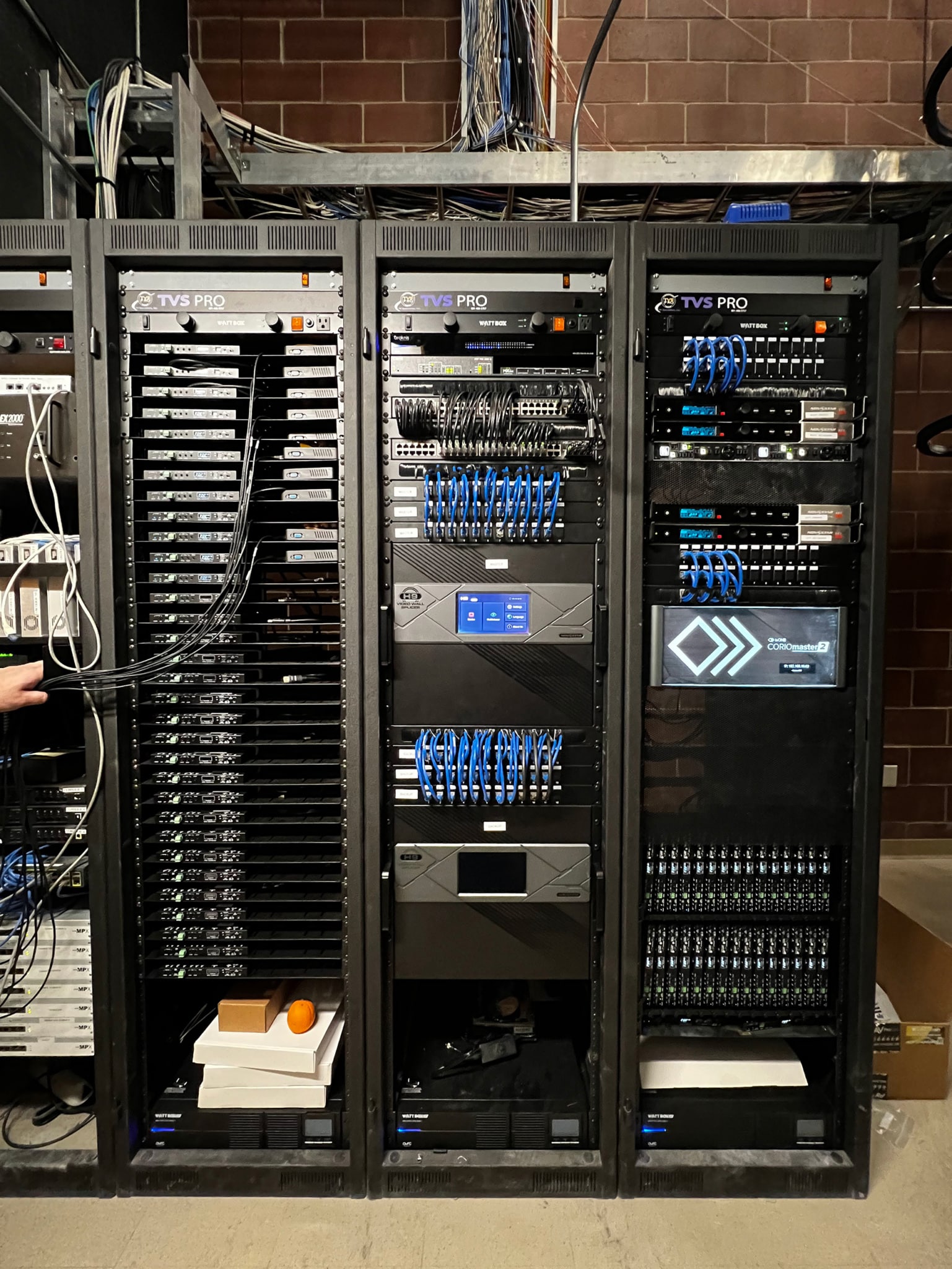 Contact a System Engineer today!